---
For drivers in the Jacksonville, Orange Park, and St. Augustine, FL, areas looking to get a compact SUV that can handle your simple towing needs, let us introduce you to the Honda CR-V. This vehicle is powerful enough to make you think CR-V stands for: "
Car Really Vrooms
!"
Our team at Duval Honda has created this towing guide to go over all the little things the Honda CR-V does to satisfy your towing needs. After all, towing capability is a very handy thing to have even if you're not constantly in need of it. It gives you the flexibility that is necessary for many situations. Our guide will go further in-depth about these advantages, so keep reading.
---
A Very Capable Towing Capacity
Across the board, whether you choose the LX, EX, EX-L, or Touring trim, the Honda CR-V can tow up to 1,500 pounds when properly equipped. This is thanks to a 1.5L turbocharged 4-cylinder engine that puts out 190 horsepower and 179 lb-ft of torque, propelling the alloy wheels down any road you take it.
To put this towing capability in perspective, 1,500 pounds is the equivalent of:
●      A lightly loaded utility trailer 
●      A pop-up tent trailer 
●      A small aluminum boat 
●      An ultra-lightweight personal watercraft
To put it in more fun terms, you could tow up to roughly 21 fully grown golden retrievers! We're not sure why you would ever find yourself in that situation, but it's always good to know the vehicle you're driving is capable of handling these sorts of things. Perhaps that is what the CR-V stands for: "Carrying Retrievers Vehicle."
---
Additional Cargo Space
The great thing about the CR-V is that on top of its towing capacity it can carry quite a bit of cargo in the vehicle itself. With the rear seats up, this midsize SUV can carry up to 39.2 cubic feet of cargo. With the rear seats pushed down, that number bumps up to 75.8 cubic feet. To put that in terms of golden retrievers-well, we don't have the numbers on that. We apologize. We're firing our golden retriever scientists.
All of that additional cargo space will certainly make any camping trip or long vacation a lot easier. Additionally, you can always attach a Honda roof rack or roof basket on the top of your CR-V. This will give you even more cargo space in the form of a cargo carrier or roof box! You know, the CR-V may stand for: "Cargo Room Variety." Hmm, maybe.
---
Fuel Efficiency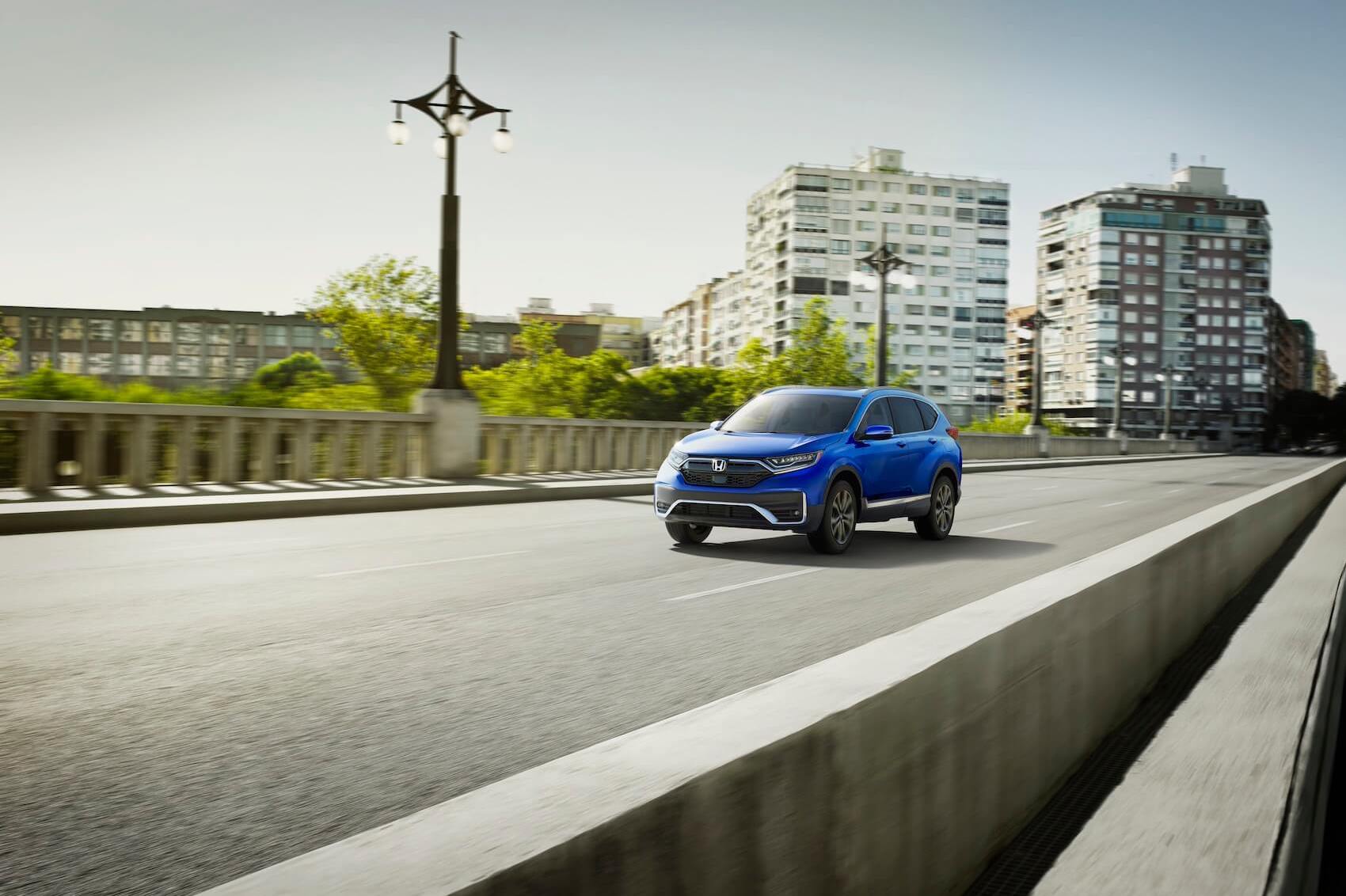 Since the towing capacity on the Honda CR-V can be useful for vacations, it's good to know that this vehicle is capable of going very far. The CR-V has very commendable fuel efficiency, getting an EPA-estimated 28 city/34 highway/30 combined MPG across all two-wheel drive (2WD) trims, making you wonder if CR-V actually stands for: "Car Ready for Vacation!"*
---
Tow Your Cargo With the 2021 Honda CR-V Today!
Whatever the CR-V stands for, one thing is certain: It is a very capable towing vehicle and a fantastic option for drivers in the Jacksonville, Orange Park, and St. Augustine, Florida, areas. Head over to Duval Honda and schedule a test drive today! Find out what the CR-V means for you.
* 28 city/34 highway/30 combined mpg rating for 2WD trims. 27 city/32 highway/29 combined mpg rating for AWD trims. 40 city/35 highway/38 combined mpg rating for hybrid trims. Based on 2021 EPA mileage ratings. Use for comparison purposes only. Your mileage will vary depending on how you drive and maintain your vehicle, driving conditions, battery-pack age/condition (hybrid trims), and other factors.
---